Tasting Tips
To get the most out of your experience on the Monticello Wine Trail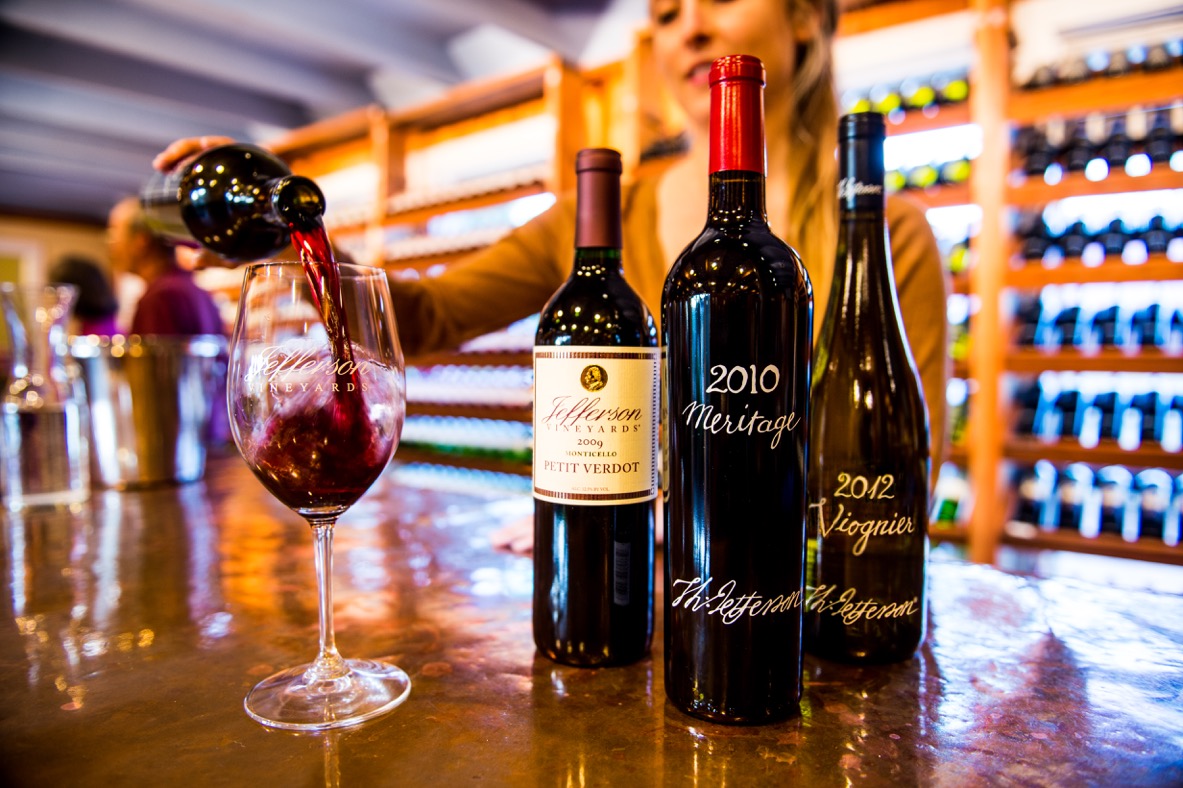 The Monticello Wine Trail is comprised of 33 member wineries that collectively welcome over more than 100,000 visitors each year. We look forward to welcoming even more visitors in 2018 and beyond as Virginia wines continue to gain national notoriety and prestige. Our members cover a wide range of styles, size, and production levels, but all take the greatest pleasure in welcoming visitors from around to world to sample their wines, relax in the bucolic countryside, and share their pride in Virginia's winemaking heritage.
To ensure every guest has the best experience possible, we recommend familiarizing yourself with each winery's specific visitor policies for tastings, pets, outside food, etc through their MWT profile page and individual websites. Note that winery policies sometimes change, and if you want to make certain about their current policies, please contact the winery directly.
Below you'll find a few tips that will help guarantee a successful day in Virginia wine country.
WINERY VISITS ARE MEANT TO BE INFORMATIVE & EDUCATIONAL:
Each member winery offers wine tastings during regularly scheduled tasting hours, and some wineries offer guided winery and vineyard tours. Wherever you go, much about our wine region and the history of each member winery can be learned by talking to the well-informed winery staff. They welcome your questions and are there to make your day a success.
If a guided tour is what you're looking for, we would recommend the regularly scheduled tours at:
Barboursville Vineyards ~ King Family Vineyards
Make a plan:
Our wine trail covers 1,320 square miles and stretches across five counties. It is helpful to understand the distance between each winery you would like to visit and have a planned route. To assist in route creation, we have an online mapping tool. Also, consider downloading a copy of our map or requesting a paper copy.
Group Policies:
Our member wineries differ significantly in size. While several wineries have the ability to easily accommodate large groups, many wineries have policies on the number of people that can visit in one party. Often it is best to call ahead if your group is comprised of more than six people; wineries will often service larger groups by reservation only.
EVENTS & PRIVATE PARTIES:
Wineries curate an extensive selection of events – everything from polo, wine pairing classes, painting parties, food festivals, and live music. On any given weekend, there are dozens of special events to choose from. Please visit the upcoming events page to get a glimpse of available options.
If you would like to plan a special event at a winery, enquire about their meeting facilities and catering capabilities. Wine country offers the perfect alternative to stuffy boardrooms!
TASTING FEES:
It is customary for wineries to charge a fee for tasting their wines and the amount can vary based on tasting offers.
A "SAMPLING" EXPERIENCE:
Wineries often make samples of their products available to educate consumers and encourage sales. While tasting wine is an enjoyable experience, over-consumption is not acceptable. Please be aware that wineries will refuse service to obviously intoxicated customers, even if there is a designated driver. Be responsible about your consumption and be realistic about the number of wineries you are attempting to visit in one day.
OUTSIDE ALCOHOL:
According to Virginia Alcohol Beverage Control laws, only alcohol purchased from the winery you are visiting, during that specific visit, can be consumed on the winery's premises. Any alcholic beverage purchased elsewhere or from another visit cannot consumed. We also ask that you imbibe only in winery hospitality spaces or tasting rooms, not in vehicles, whether your personal vehicle or a liveried limousine or motor coach.
Food:
Food offerings will vary by winery, some have full menus and others offer a selection of snack foods. Many wineries allow customers to bring in food to enjoy; however, several produce their own food onsite and limit outside food items.
If you're looking for a winery with more extensive food offerings, we'd recommend checking out:
Barboursville Vineyards ~ Early Mountain Vineyards ~ Pippin Hill Farm & Vineyards ~ Trump Winery ~ Veritas Vineyard & Winery
PETS & KIDS:
If you are traveling with furry friends or children under 21, it is recommended that you check visitation policies for each winery you plan to visit.
PURCHASING:
Wine sales from the tasting room are vital to the viability of a winery. Many of the wineries are small, family-owned, businesses and rely on the support of visitors to thrive, continue farming, and make great wine. If you had a positive experience and enjoyed the wines during a visit, show your appreciation by making a purchase or joining the wine club. Often wine club members are offered exclusive products, discounts, and events.
Transportation:
It is always recommended to taste wine responsibly and plan to have a designated driver or hire a driver for the day. A wide selection of transportation providers and tour companies are available locally, including one of our community partners - Top Shelf Transportation. It is recommended that transportation reservations are made well in advance to ensure availability.
We Love Wine:
It's safe to say all of the winery owners and staff you encounter during a visit are energized by Virginia wine and are proud of the region's accomplishments. Please do not be afraid to engage staff and ask them questions about specific wines, the history of their winery, recommendations on restaurants, or other tourist attractions in the area. We're here to help you get the most out of your experience along the Monticello Wine Trail!